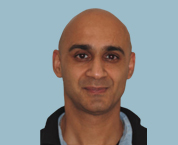 Dr Saqib Siddiqui
Specialist Orthodontist
GDC No. 70979
MOrth RCS Edin 2006, MPhil Orth Birm 2006, MFDS RCS Eng 2001, BDS Lpool 1995
Dr Saqib Siddiqui is passionate about orthodontics. He enjoys the intricate nature of the specialty and the satisfaction of bringing about a gradual transformation in his patients' smiles by moving teeth to their optimal position. He does this by using one of the different types of braces he is trained in, but principally by employing the technique that is best suited for the individual patient. For him, the highlight of Orthodontics is sharing the satisfaction at the end of the treatment when his patients are sporting their beautifully straight teeth and new smiles.
Saqib qualified as a dental surgeon in 1995 from the University of Liverpool Dental School. He then attended the Royal Military Academy Sandhurst and joined the British Army as a Dental Officer. He spent a number of years providing general dentistry to our troops in both peacetime and military deployments. His experience took him to various locations in the UK and overseas.
In 2002, Dr Siddiqui was prestigiously selected by the army for specialist training to become on the military's Orthodontists. He specialized at Birmingham Dental Hospital, where he obtained his specialist orthodontic qualification (M Orth) and a Master's degree (M Phil) in Orthodontics. Following qualification in 2005, he provided specialists orthodontic care to our troops and their families. He was involved in lecturing and presenting at courses and conferences and also involved in providing clinical care to complex cases requiring input from more than one dental speciality.
In 2012, Dr Siddiqui left the army after 18 years of service and now spends his time in both NHS and private orthodontic practice in Worcester and here at EDC.
In his spare time, Saqib enjoys running, football, skiing and cycling. He enjoys his time most when spending it with his family or following his football team, Liverpool FC.
Dr Siddiqui enjoys being the specialist orthodontist at EDC, offering his patients the various orthodontic techniques he is trained in so that they can achieve the smile they desire.
Dr Saqib Siddiqui BDS MPhil (Orth) MFDS RCS (Eng.) M Orth RCS (Edin)
Back to The Team