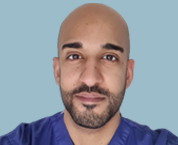 Rajan Chaudhry
Associate dentist
GDC No. 278786
BDS UoB (2018)
Graduating from the University of Birmingham in 2018, Dr Chaudhry completed his Foundation Training in the East Midlands, and joined the Edgbaston Dental Centre team in 2022.
Throughout his time training and as an associate, building good rapport with patients and giving them the autonomy to make informed decisions have always been at the forefront of Rajan's ethos as a dentist. HIs communication skills and ability to understand different peoples' needs and concerns through interactions with them underpin his desire to ensure the best outcomes for all of his patients. It is often commented on that Rajan's open and relaxed demeanour allows his patients to feel at ease too!
Outside of work, he is a keen follower of a variety of different sports - going to watch live events whenever he can. He also enjoys reading, travelling, discovering new cuisines and spending time with friends & family.
Back to The Team