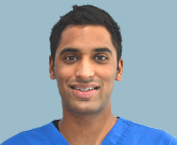 Dr Kieran Bhakta
Associate Dentist
GDC No. 259004
BDS (Hons) Sheff 2015, MJDF RCS (UK), Dip Rest Dent RCS ( ENG), PGCert (MedEd), DLM,LLM
Kieran graduated from the University of Sheffield in 2015 with Honours where he was the President of the Dental Students' Society, taking a lead role in education and activities at the Dental School. Kieran was also the recipient of the University of Sheffield Chancellor's Medal for recognition of his outstanding contribution to the School of Clinical Dentistry, to the University of Sheffield and to the wider community of Sheffield in promoting widening participation, supporting others towards a career in Dentistry and raising awareness of mouth cancer. Kieran joins a prestigious list of previous winners including Jessica Ennis-Hill who received the medal in 2008.
Kieran is an enthusiastic member of our dental team and keen in postgraduate development and learning. Kieran completed his MJDF (Membership of the Joint Dental Faculties) Diploma Qualification in November 2015 and also completed his Diploma in Restorative Dentistry (Royal College of Surgeons) in June 2019. Kieran has a special interest in medical-law; he has completed a Masters in Medical Law at Cardiff University and also has achieved a Diploma in Legal Medicine.
Continuing with dental education, Kieran has been assigned as a Joint Foundation Dentist Trainer which involves mentoring those new graduates who have just completed their dental degree. This shows that he is not only committed to his patients, but also enthuses to encourage younger dentists, at the start of their career.
Kieran enjoys building a good rapport with all his patients putting their needs at the forefront of every consultation. Kieran's interests lie in restorative dentistry, orthodontics where he is an Invisalign Go provider and also in acute dental care and trauma.
Outside dentistry, Kieran takes an active involvement in hockey with Beacon Hockey Club.
Back to The Team