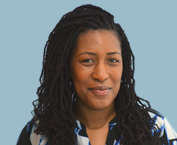 Keischa Gonzales
Patient Treatment Co-ordinator
My name is Keischa, I started working here at Edgbaston Dental Centre in October 2016 as a dental nurse.
I've worked in dentistry for 10 years, I started my career at the Birmingham Dental Hospital where I trained for two years to gain my dental nurse qualification.
During my career I've worked for both private and NHS practices, I've also worked in an orthodontic practice for two years.
Throughout my career I've had various roles such as head dental nurse, lead decontamination nurse and in Aug 2014 I gained my Dental Radiography qualification.
In October 2017 I changed roles within the practice to Patient Treatment Co-ordinator - I was very excited about taking on this new role and the team have been very supportive.
Patient care has always been something that is important to me as a dental nurse, so in this role I enjoy building relationships with our patients whilst guiding them through their dental journey and changing their perception of dentistry.
I'm usually the first point of contact, almost like contacting a friend over the phone or email, I pride myself in providing a simple, informal stress free experience, where patients can discuss their options and feel relaxed to discuss any queries they have.
My role includes managing online enquires, coordinating appointments, consultations, managing financial arrangements, discussing patients options and treatment plans.
Assisting our patients clearly see their existing conditions, understand treatment recommendations and visualise the anticipated results. My understanding and knowledge of dentistry assists me in helping our patients achieve their dental goal.
I liaise between our patients and the dentist, ensure patients are fully informed of treatment options, pros and cons.
I have joined nervous patients in surgery for consultations with the dentist or during treatment if they are extremely nervous so they have a familiar face in surgery. Dental treatment can be daunting for many people so I enjoy the fact my role as Treatment Coordinator allows me to create a more relaxed environment and experience.
I really enjoy seeing our patient's progress through their treatment and being a point of contact if they need me.
Back to The Team